WOW! What a month!!!
12/14/01
Don't know where it went, but the last four weeks were a wild ride for this old granni!! Family month all the way, we had a big Thanksgiving - seventeen of us!! Janice was with us in our hearts (and will be visiting in person soon). The turkey was BIG, the rest of the food plentiful and with a new table arrangement we were all able to be in the dining room together! Believe me, this is a big accomplishment.

Grampi's cataract surgery predominated after that, with preliminary doctor and lab appointments, but now that is past. He is currently recovering, complaining all the while that the doctor said "no driving" until next week. He's REALLY glad to have that second eye done though - now he's able to see equally well with BOTH eyes again.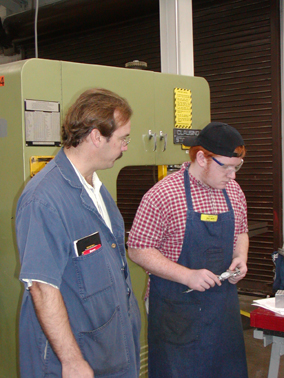 Prior to his actual surgery we were able to fit in a visit with two of our grandchildren while their parents went on a long deserved second honeymoon, combined with a business trip. You get a whole new perspective of your grandkids when you live with them for a few days... and I'm proud to say it's a POSITIVE perspective. I'm convinced that their parents are (almost) as good at parenting as we were!!! Now that's the biggest compliment I can give, kids.

While we were there grampi visited James' favorite class where he took photos of our oldest grandson at work. We took Nicole to her private music lesson and met her teacher.

The low spot of the past month was lack of internet access! It started when Excite@home stopped providing access to Charter, our broadband company. We, in our zeal to be ahead of the game, were without internet at our house for almost three full days, during which time a whole comedy of errors occurred. We finally got our internet back just in time to go over to the other side of the state for our visit with the teenage grandkids. Announcement number one was "Excite@home no longer provides internet access to ATT!!!" - their broadband company - for a whole week!
We got back home and here we are ;-) The next challenge: getting my 1998 Ford Ranger fixed. (It was making a heck of a noise, so we took it in.) They had to order parts, but we should be able to get it fixed next Monday...and golly gee! It will cost under $1000! (Where's that pot o' gold when you need it?) Meanwhile, I'm driving grampi's precious van whenever we go anywhere. I've never driven it before - not because I don't know how, but my vehicle is more energy efficient.

Is this "NORMAL"?
11/12/01: This time there were TWO weeks that was - last week...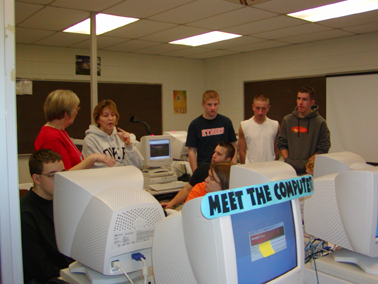 - Internet meeting - always interesting. Is it just because I'm the only girl, or is it really as much fun to discuss internet stuff as I think it is?
- Ellie Mae went to the Doctor. (She's a kitty.)We have to trick her in order to take her because she has a "sense" that she's going for a ride... bringing bad memories, since somebody threw her away last year. It's a constant battle letting her know she is loved and wanted!
- Went to the school where Shar is music director. Helped the computer teacher and her high school students get a private website going. Now they can put their Frontpage work on a private site to show their parents how their classwork looks on the internet. Their teacher didn't want to have them "go public" because of school policies, etc. Some of them DO have websites out here, however, and they're all very talented individuals!!!
- Grampi and Mike used blowers to pile up the remaining fallen leaves lakeside. Nicole and I burned as many as we could before the wind forced us to quit.
...and the week before!!!
11/05/01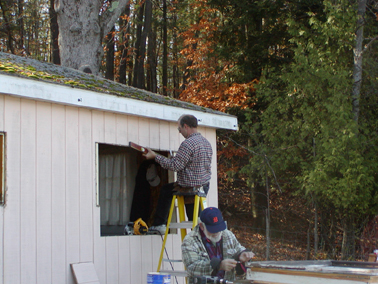 - Had a planning meeting with Natalie for the teachers website building session scheduled for that Friday. Always fun doing something that you enjoy with someone you love.
- Hosted a New Users computer meeting at our house - good meeting but bad aftermath!!! We LOST our home network and even though Grampi2000 has given it a lot of attention, it still "ain't right".
- Website building session - GREAT group!!! After a few minor difficulties, we had a good session. Teachers from preschool through grade eight, with varying levels of computer knowledge and skills got their own classroom websites going. Thanks Nat, Linda and Alex for your help!!!
- Perfect end to a mostly perfect week! We've got WINDOWS - in the cottage, that is. Well, we already had windows, but lakeside, it's nice to have BIG windows. We can now see the lake from practically anywhere IN the house. Thanks Dave, ya done good!!!
-