Date: Tue, 7 May 2002 04:12:17 -0700 (PDT)
Here I am in Bishkek, resting, recovering from Jet Lag, renewing old acquaintances, and monitoring all the changes that have taken place since I was here five years ago - and all the things that have remained the same as well. My host and former employer here is the owner and director - and main teacher - at a small English language school here.
I arrived here at 3:00am local time on Friday. All flights were on time, and except for long layovers in three airports, the trip was pretty hassle free - until I learned thatmy bicycle was still in Moscow. With the help of my host I made a claim with Aeroflot, but we are just coming off of a long weekend here so
there was no way to find out anything until today - at least not without the help of my host, who can make the appropriate phone calls in Russian. Anyway, she made that all important phone call a few minutes ago. The bicycle is at the Bishkek airport (:-). With any kind of luck they will deliver it to the apartment where I am staying, tomorrow.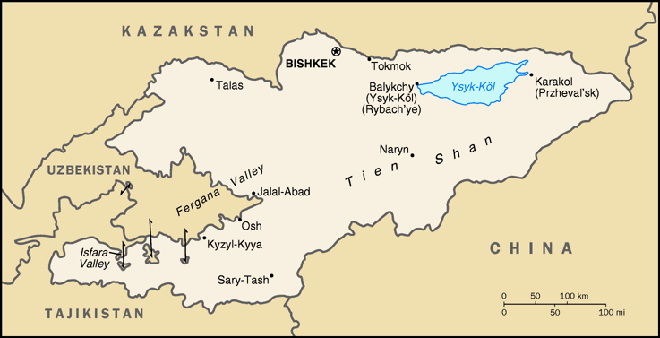 Okay folks... so there's Bishkek...