Step one: go to.....
Choose "Sitebuilder": This is the foolproof, no HTML needed version. You can always change to a more advanced version later.

Choose "Sign me up": Choose "free" and fill in Membership info on the next page. I suggest you use the name you want to be identified by in the "name" space as this will become part of your URL. I used my screen name (granni39) for my personal site. After the confirmation page, you will see the page shown below.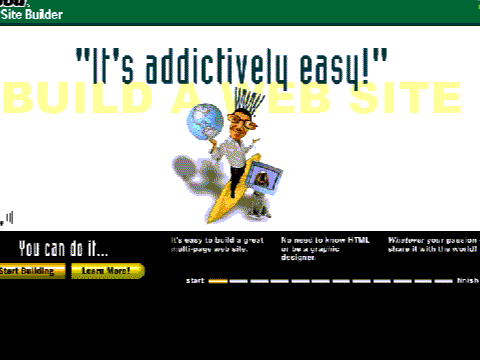 This page offers a tutorial. Take the time to go through it. Who knows better than the website host how to use their tools?
Now you can go ahead and start building. If you can read, you can DO it! On the next page you will have an opportunity to choose a topic. Topics include personal, photo albums, fan sites, sites for teens, organizations, various business-related topics plus health and family. I chose "hobby and how-to" for this site.

Pick a topic, go on to the next page that shows suggested pages for that topic. If it doesn't "fit" you, go back and look at another one until you find the one for you. You will be able to delete any unused pages, change titles, etc., so go ahead.... do it!

The next page is "CHOOSE A WEBSITE DESIGN". Click on "view thumbnails" and choose your design. I chose "funky purple." You can always change the design later.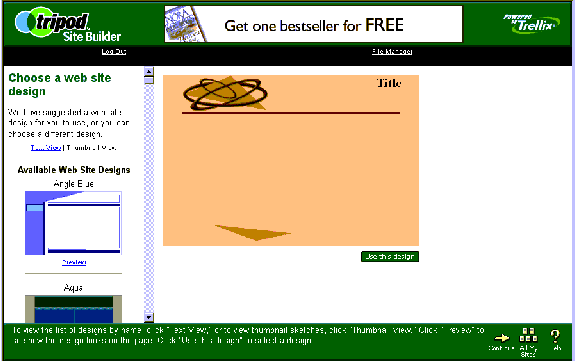 Below is how my page looked before I started building it. All of the web editing tools are on the left bottom of the page. "Help," "All my sites" and "Site organizer" are located on the right.

Fill in the blanks, using the editing tools, preview your site & publish it. Use the tools to add text, pictures and text, delete areas you don't want, add web gems*, etc. The sky's the limit - and it takes a lot of words and pictures to fill up 20 MG of space!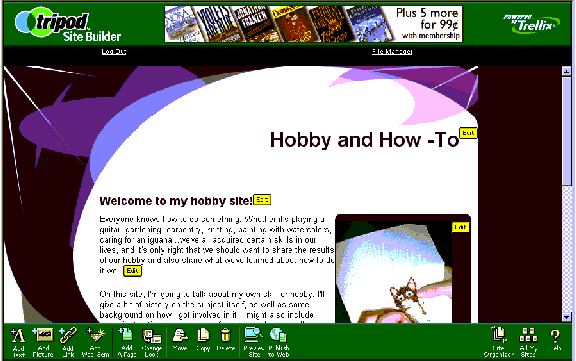 When you choose the "Publish" tool, you will have the opportunity to select a directory name for your new website. It's best to choose something short and meaningful, since it will be part of the URL to your website. I chose "webtutorial."

Be SURE to make a note of your URL - the location where your site can be found on the internet! Mine is: http://granni39.tripod.com/webtutorial/
Now for the important part - Keep your site current. If it isn't "fresh" there's no reason for anybody to come back. Stay tuned! Granni39 will soon show you how to set up a website in MSN for "members only." Look for it by March 1.